What's for Dinner: Healthy Back to School Recipes
Category: health

Publication date: Monday 12 September 2022 15:16

Judy Greipel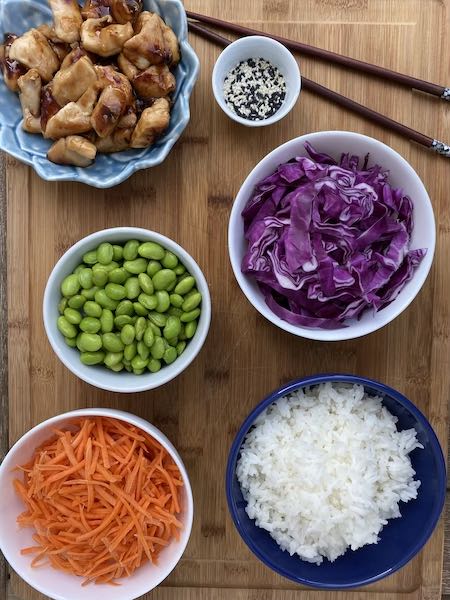 It's fall and back to school, which probably means more schedules, carpools, and runs than the last few months. And everyone still needs dinner. So, how do you get a nutritious dinner on the table with all the clutter?
1. Make Your Own Meals Everyone puts together their own meal. This is one of my favorite ways to feed everyone, at different times, with different likes. Allowing children (of all ages) to create their own meals builds confidence around food and makes your life easier.
2. Feed the kids on a central island where you can multitask while the kids eat. Even if everyone can't eat together, being together at mealtime is your next best option. When real estate clients ask about a kitchen renovation, I always recommend a large island.
Here are two of my favorite quick and healthy meals.
Make your own Teriyaki Chicken Buddha Bowl
(peanuts, walnuts, dairy, eggs)
Serves about 4
1 – 1 1/4 pounds boneless, skinless chicken breast
1 tablespoon olive oil or avocado oil
1/4 cup low-sodium soy sauce (or gluten-free coconut milk)
1/4 c + 2 tablespoons water
1 1/2 tablespoons honey
1 tablespoon light brown sugar
1 tablespoon rice vinegar
1/4 teaspoon sesame oil
1 teaspoon peeled and grated ginger
1 large garlic clove, grated
2 teaspoons potato starch
Serve with:
brown or white rice
edamame bombardment
Sliced ​​red cabbage
grated carrots
Black and white sesame seeds
Cut the chicken into 1-inch cubes. In a small bowl, whisk together soy sauce, water, honey, brown sugar, rice vinegar, sesame oil, garlic, ginger, and potato starch.
Heat olive oil over medium heat in a large non-stick skillet. Add chicken and cook 4 minutes per side until browned and completely cooked through (chicken should reach 165 degrees). Stir in the sauce and mix with the chicken until covered. Let it thicken for one minute.
Allow children to assemble their own plates with desired toppings. For vegetarians, replace the chicken with tofu or make it without chicken entirely.
Quick tip: Don't have time to make your own teriyaki sauce? Use your favorite prepacked instead.
Make your own chicken gyros
(egg-free, peanut-free, nut-free, sesame-free and gluten-free)
Makes 3-4 servings
3 tablespoons Greek yogurt
2 tablespoons juice of one lemon one lemon
1 1/2 tablespoons olive oil or avocado oil + more for cooking
2 teaspoons red wine or white wine vinegar
1 tablespoon dried thyme
pinch of kosher salt
pepper
1 1/4 – 1 1/2 pounds chicken breast, cut into 1-inch cubes
Serve with:
Round Bread Arabic Bread Kamaj Bread

Tzatziki
tomato halves
clip option
Greek salad
In a large ziplock bag or a medium bowl, place the yogurt, lemon juice, oil, vinegar, oregano, salt, and pepper. Seal the bag and shake or whisk together. Add chicken and rub/mix together. Soak in water at least 30 minutes before and up to a day early.
Heat a large skillet over medium heat and add about 1 tablespoon of oil. Cook chicken, about 4 – 5 minutes per side, until golden brown and cooked through.
Serve the chicken in warm pita bread.
Let the kids top the optional class.
These recipes were produced by Jodi Greebe, a Compass licensed real estate salesperson, registered dietitian and mother of three. Follow her on instagram @jodigrd for decorating tips, healthy meal ideas, lifestyle tips and more.
.